2019 AHHF Induction Class
Five outstanding individuals, along with the only Alberta team to win back-to-back Memorial Cups, comprise the 2019 Induction Class for the Alberta Hockey Hall of Fame.
---
2019 INDUCTEE BIOS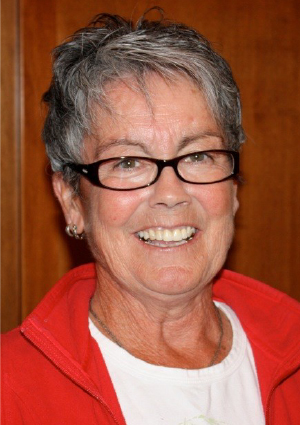 Shirley Cameron is one of the most important individuals in the growth and development of women's hockey in Alberta, dating back to the early 1970s as a player, coach and builder of the sport.
For Shirley, hockey has been a life-long passion. She grew up near Bonnyville and played pond hockey with her brothers and friends. In 1973, she was one of the first people to answer a radio ad looking for women to play hockey in Edmonton - and the Chimos team was created. The Chimos won 14 provincial championships in 15 years and three national championships - bringing home the Abby Hoffman Cup in 1984, 1985 and 1997.
Shirley was one of the founders of the Edmonton Chimos, and the team's leader for more than three decades. She captained the team her entire playing career (1974-92), when she took over as coach. She also served as coach/manager (2001-04) and director of operations (2005-06) for the Chimos, when they played in the Western Women's Hockey League. Overall, Shirley's efforts helped make the Chimos one of the most successful women's ice hockey teams in Canadian history.
The 1983-84 Chimos were inducted into the Alberta Hockey Hall of Fame in 2006, making Shirley one of the few two-time inductees in the AHHF.
Shirley also played a key role internationally. She was a member of Team Canada at the first unofficial world championships in 1987 and won a gold medal with the team at the inaugural Women's IIHF World Championships in 1990.
Shirley eventually turned her efforts toward growing the game at the provincial level, becoming an instructor and assistant coach in Hockey Alberta's high-performance female program. In 1999, she was named Head Coach of Team Alberta for the Canada Winter Games. She was a consistent leader in Hockey Alberta's player development and coach development programs from the 1980s to the early 2000s. Shirley also coached the Edmonton Blazers midget girls' team (1991-93), leading the team to the gold medal at the 1993 Western Canadian Shield Championship.
As a coach, she often returned to rural Alberta with her teams to play against old-timer or boys' teams. Her goal was to introduce, promote and grow women's hockey to the girls within the community so they could have role models to look up to and follow.
In addition to her AHHF induction, Shirley has been recognized for her decades of work with numerous awards, including:
Alberta Amateur Hockey Association Meritorious Award (1995)
Hockey Alberta Coach Recognition Award (1997)
YWCA of Edmonton Women of Distinction Award (1997)
Hockey Canada's Female Hockey Breakthrough Award (2006)
Hockey Alberta Centennial Award (2007)
Canadian Ball Hockey Hall of Fame (2009)
Alberta Sports Hall of Fame (2016)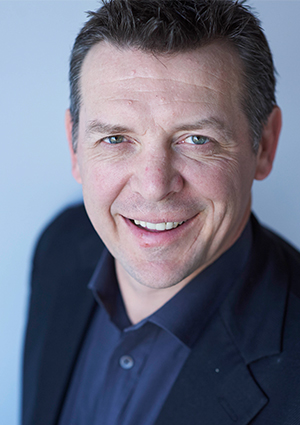 Theoren Fleury:
Former NHL All-Star, Stanley Cup winner and Olympic Gold Medalist
Two-time best selling author of Playing with Fire and Conversations With a Rattlesnake
Healing motivator
Person of great life experience
Knowledge in the field of relational trauma
While Theo does enjoy his hockey memories and accolades, he feels honored and blessed in what he does today.

Theo's mission statement is to help as many people get to where they want
to go. It has taken shape in many forms, whether meeting people for a brief moment on the street or as a dynamic inspirational speaker with the intention of creating healing through conversation. He loves people, their stories and their journeys. He is committed to daily transformation through personal growth through self-reflection, mindfulness and new action. His compassionate spirit allows others to feel safe and whole through experiencing his vulnerability.

Theo has been awarded the Canadian Humanitarian Award, The Queen's Jubilee Medallion, he is an Honorary Chief and recipient of the Aboriginal Indspire Award. In 2014 Theo was awarded with an honorary doctorate in Science from University of Guelph-Humber for outstanding contributions to the Mental Health of Canadians. Most recently Theo was bestowed with a second honorary doctorate in Laws from Brandon University in recognition for his contributions combating child sexual abuse and for his outstanding efforts to promote healing and recovery.

Theo pursues excellence in all areas of his life.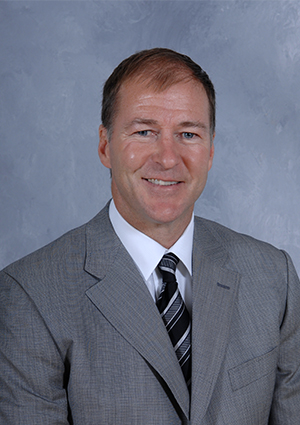 Kevin Lowe is a pillar of the Edmonton community and one of the key leaders who built the Edmonton Oilers into a Stanley Cup dynasty team. As a defenceman, he was a solid positional player in his own zone, a team leader and an astute playmaker on offence. His leadership on and off the ice was a major component of Cup championships in both Edmonton and New York.
The Lachute, Quebec native was the Oilers first-ever draft pick when he was selected 21st overall in the 1979 NHL Amateur Draft. Lowe also scored the first goal in Oilers team history when he beat Tony Esposito at 9:49 of the first period in Edmonton's first NHL game on October 10, 1979 at Chicago Stadium. That goal launched a career that saw him play for 19 seasons without spending a day in the minors. The goal was also assisted by Wayne Gretzky, marking the "Great One's" first ever point in the NHL.
During 19 seasons in the NHL, including 15 as an Edmonton Oiler, Lowe played in 1,254 regular season games and 214 playoff games, winning six Stanley Cup championships. Lowe holds the Oilers record for most games played in both the regular season (1,037) and playoffs (172) and is one of only 45 players in NHL history to have played in 1,000 games with one franchise. He also ranks among Edmonton's all-time leaders as he is eighth in assists (309), 11th in points (383) and third in penalty minutes (1,236). He was selected to play in the NHL All-Star game seven times beginning in 1984 and represented Canada at the 1982 World Championships and the 1984 Canada Cup.
In 1990-91, he became the sixth captain in Oilers history, fulfilling the promise of his junior career that saw him named the first Anglo-Canadian captain of the Quebec Remparts. Lowe was recently named to the Remparts All-Star Team from 1969 to 1985 in February, 2019.
His notable work in the community was also acknowledged in 1990 when he won the King Clancy Memorial Trophy and was named the NHL's Man-of-the-Year, the only player to win both in the same season. Both awards are presented for leadership qualities and humanitarian contributions. Lowe remains a pillar of the Edmonton community and his work with the Christmas Bureau of Edmonton has set the standard for the Oilers commitment to community involvement. He was the Honorary Chair from 1982-83 to 1991-92 and Honorary Co-Chair from 2005 to present.
Lowe was traded to the New York Rangers in December 1992 and was a major factor in the team's first Stanley Cup win in 54 years, which came in 1994. Lowe rejoined Edmonton prior to the 1996-97 season, before he retired from the league in 1998. He immediately found a place behind the bench, joining the Oilers as an assistant coach for the 1998-99 season, serving as head coach in 1999-00 and moving into management as the general manager in June of 2000.
Lowe has a son, Shane, and he and his wife Karen, a two-time Olympic alpine skiing bronze medal winner for Canada at the 1988 Winter Olympics in Calgary, have three daughters - Devyn, Darby and Karly - and a son, Keegan, who was drafted by the Carolina Hurricanes in the 3rd round, 73rd overall, at the 2011 NHL Entry Draft.
Today Kevin Lowe serves as Vice Chair of Oilers Entertainment Group (OEG) playing an integral role in OEG's community and business operations.
Kevin's other accolades include:
QMJHL Second All-Star Team (1978, 1979)
NHL All Star Game Appearances (1984, 1985, 1986, 1988, 1989, 1990, 1993)
Bud Man of the Year Award (1990)
King Clancy Memorial Trophy (1990)
Won Gold at the 2002 and 2006 Winter Olympics as a part of the Canadian men's hockey management team
World Cup of Hockey championship in 2004 as a part of the management team
Board Member, Edmonton Oilers Community Foundation, Edmonton Police Foundation & SwimDrinkFish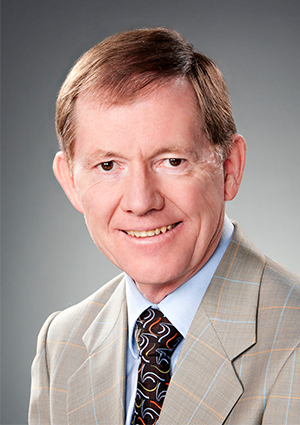 Duncan MacDougall has played a tremendous role in the development of on-ice officials over more than four decades of involvement in hockey in Alberta.
Whether a new official just starting out in the officiating program, or a senior official preparing for provincial, national, international or professional work, Duncan has helped many of them with their achievements and advancements in officiating.
Duncan started as an on-ice official when he attended his first clinic in 1974‐75 at the North West Community Athletic Club. Over the next two decades, Duncan officiated various levels of minor hockey in the Edmonton area, and had a stint working intramural men's hockey at the University of Michigan (1976-78). In 1981, Duncan achieved his Level III, and then Level IV in 1988, earning a perfect 100 per cent on his written SRD exam. His officiating resume includes working as a linesman and referee at all levels of minor hockey, from Novice to Juvenile AA and Junior B in the Edmonton area, including nine provincial playoffs and Edmonton's city playoffs up to as recently as 2019.
For more than 30 years, Duncan has been instrumental in developing the officiating program at the grassroots level in Edmonton and has contributed to the overall program in various capacities. He became an executive member on the North Zone Referees Committee in 1981‐82 as the Federation of Community Leagues' hockey council representative, a position that he still holds. He has held many other positions with the North Zone, including Edmonton Minor Hockey Association representative, and as a member of the Senior, Minor and Honorarium committees. He has been a clinic instructor since 1985.
Duncan's commitment to minor hockey is unmatched. He has assigned thousands of games since 1981 as the referee in chief and assignor for over 35 consecutive years in Northwest Edmonton. He assigned the Edmonton/ Calgary BB Provincial series for 14 years, minor hockey week finals for 38 years, and Junior C in Edmonton for 16 years. Year after year Duncan, has spent hours on the phone ensuring the needs of minor hockey in Edmonton are met.
Duncan's loyalty and hard work have resulted in him receiving more than a dozen awards, including:
President's Award, Hockey Edmonton (2015)
Life Membership, Hockey Alberta Referees' Council (2012)
Hockey Alberta Development Award (2009)
Ernie Boruk Award (2004) from the Hockey Alberta Referees' Council
Life Membership with the Edmonton Federation of Community Leagues' Hockey Council (2003)
Most Deserving Official in the Branch Award (1995) from Canadian Hockey Association/ Alberta Amateur Hockey Association.
In 1990 Duncan had an award named after himself with the North Zone Referees Committee. The award is presented, "To anyone who does outstanding service and commitment to the North Zone Referees' Committee and is the least recognized." This is award is a true reflection of Duncan's character and what he has done year after year for referees and minor hockey.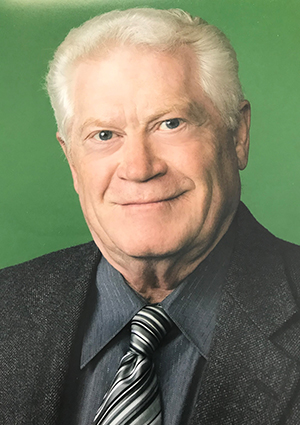 As sports director for CHAT TV & Radio, Bob Ridley has spent 50 years covering and promoting amateur sports in Medicine Hat and surrounding area.
Bob has been an integral part of the Medicine Hat Tigers Hockey Club of the Western Hockey League since the team's inception in 1970. Since day one, Bob has been the play-by-play voice for the Tigers, only missing one broadcast in over 3,900 games. Then, in 1972, the team bought a bus and he has been doing double duty ever since – also serving as the team's bus driver.
Bob has been in attendance for all the greatest moments of the Tigers' franchise. The team's five WHL championships, and the back-to-back Memorial Cups in 1987 and 1988 obviously top the list of memories. But one of the most special memories goes back to 1973, when the team went to the Memorial Cup for the first time. The franchise was only three years old, but it was a very special experience as the lineup featured future NHLers Lanny McDonald and Tom Lysiak, and the Gassoff gang (Ken, Bob and Brad).
In addition to his time in the rink, or on the bus, Bob also found time to serve as the President of the Medicine Hat Men's Fastball League for five years and was also a competitive rower and racquetball player.
His contributions to amateur sports in Alberta have not gone unnoticed over the decades, as he has received numerous awards and commendations, including:
Medicine Hat Civic Recognition Sports Award (1995)
Alberta Sports Hall of Fame - Bell Memorial Award (2000)
Alberta Centennial Award (2005), recognizing a commitment to making Alberta a better place to live.
WHL Distinguished Service Award (2006)
Radio Television Directors News Awards (RTDNA) Lifetime Achievement Award (2007)
RTDNA News Directors award (2011)
The press box at the Canalta Center in Medicine Hat has been named the 'Bob Ridley Broadcast Centre'
March 7, 2012 marked Bob's 3,000th regular season game behind the microphone as the voice of the Medicine Hat Tigers, a 2-1 loss to the Kootenay Ice. Game 3,001 was a better outcome, as the Tigers rebounded against Kootenay for a 3-1 win.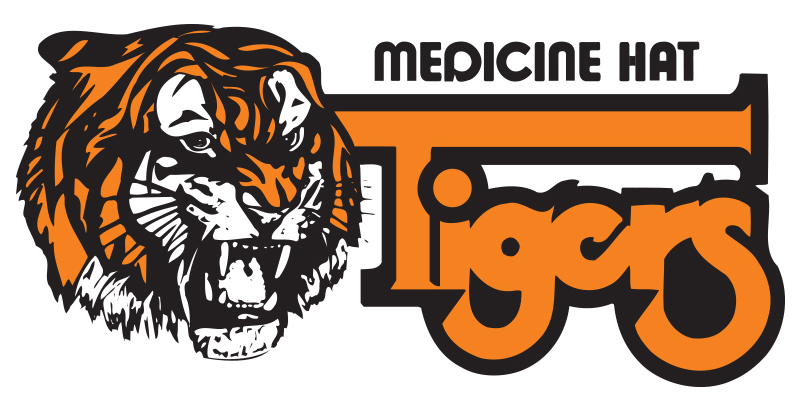 The 1986-87 and 1987-88 Medicine Hat Tigers are the only Alberta team to win back-to-back Memorial Cups, as the Canadian major junior hockey champions, and one of only eight teams in the Cup's 100-year history to win back-to-back titles.
The 1986-87 squad capped off a successful regular season, where they finished atop the East Division with 101 points. After a bye in the first round, Medicine Hat defeated Moose Jaw in six games in the division semi-finals, edged Saskatoon in seven games in the division finals, before nipping Portland, also in seven games, to win the Western Hockey League crown, and advance to the Memorial Cup.
The 1987 Memorial Cup was hosted in Oshawa, ON, and featured only three teams – the host and Ontario champions Oshawa Generals, and the Quebec champions Longueuil Chevaliers. Oshawa dominated round-robin, going undefeated. Medicine Hat defeated Longueuil in round-robin, and then again in the semi-finals. In the final, Medicine Hat had a decisive victory over Oshawa, 6-2, to win the franchise's first ever national title.
Wayne McBean received the Stafford Smythe Memorial Award as tournament MVP, and Mark Fitzpatrick the Hap Emms Memorial Trophy as top goaltender. Fitzpatrick and McBean were joined on the tournament all-star team by teammates Jeff Wenaas (centre), Dale Kushner (left wing) and Guy Phillips (right wing).
1986-87 winning roster: Ron Bonora, Neil Brady, Dean Chynoweth, Rob DiMaio, Rocky Dundas, Mark Fitzpatrick, Kelly Hitchins, Jamie Huscroft, Wayne Hynes, Kevin Knopp, Mark Kuntz, Dale Kushner, Kirby Lindal, Trevor Linden, Mike MacWilliam, Wayne McBean, Scott McCrady, Mark Pederson, Guy Phillips, Jeff Wenaas, Keith Van Rooyen, Rod Williams; coach Bryan Maxwell and general manager Russ Farwell.
The following season, Medicine Hat finished second in the East Division, behind Saskatoon, as both teams earned the bye to the division semi-finals. Medicine Hat eliminated Prince Alberta in six games, and then swept Saskatoon in the division final. The Tigers claimed the WHL title in six games over Kamloops, to advance to the Memorial Cup in Chicoutimi, QB.
The Tigers faced off against the Windsor Spitfires, Hull Olympiques, and Drummondville Voltigeurs. Medicine Hat finished second in round-robin play with convincing victories over Hull and Drummondville, and a 5-2 loss to Windsor. In the semi-final, Medicine Hat eliminated Hull, and then eked out a 7-6 win over Windsor to claim the Memorial Cup. Windsor had come into the event having won 39 of their previous 40 games.
Rob DiMaio received the Stafford Smythe Memorial Award as tournament MVP, and Mark Fitzpatrick repeated winning the Hap Emms Memorial Trophy as top goaltender. Fitzpatrick and DiMaio were joined on the tournament all-star team by Dean Chynoweth (defence), and Trevor Linden (right wing)
1987-88 winning roster: Mike Barlage, Vince Boe, Neil Brady, Dean Chynoweth, Rob DiMaio, Mark Fitzpatrick, Clayton Gainer, Murray Garbutt, Wayne Hynes, Dan Kordic, Kirby Lindal, Trevor Linden, Wayne McBean, Scott McCrady, Ryan McGill, Jason Miller, Mark Pederson, Jason Prosofsky, Darren Taylor, Neil Wilkinson, Mark Woolf, Cal Zankowski; coach Barry Melrose and general manager Russ Farwell.
Both teams were inducted into the Alberta Sports Hall of Fame in 2007, and several team members went on to professional careers.
1986-1987 Medicine Hat Tigers Memorial Cup Champions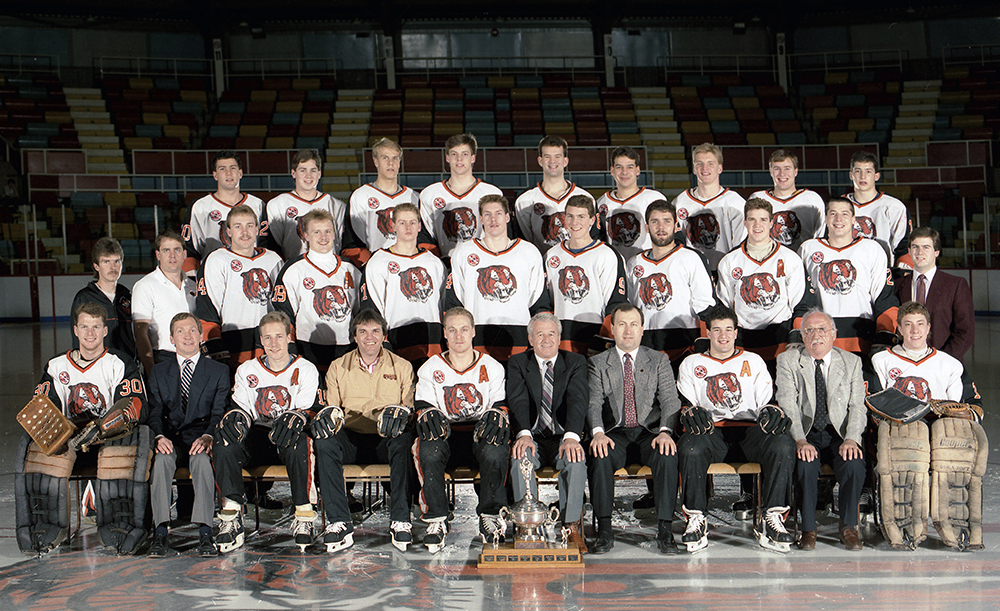 Front Row (L to R): Mark Fitzpatrick, Dr. R. I. MacKenzie (Team Physician), Guy Phillips, Bryan Maxwell (Coach), Dale Kushner, George Maser (Owner), Russ Farwell (General manager), Ron Bonora, Dr. J. A. Cranson (Team Physician), Kelly Hitchins
Middle Row (L to R): Terry Hudec (Assistant Trainer), Doug Ball (Head Trainer), Mark Pederson, Jeff Wenaas, Neil Brady, Mike MacWilliam, Trevor Linden, Jamie Huscroft, Dean Chynoweth, Rod Williams, Daryl Henry (Public Relations)
Back Row (L to R): Rocky Dundas, Wayne Hynes, Kevin Knopp, Wayne McBean, Scott McCrady, Keith Van Rooyen, Mark Kuntz, Kirby Lindal, Rob DiMaio
1987-1988 Medicine Hat Tigers Memorial Cup Champions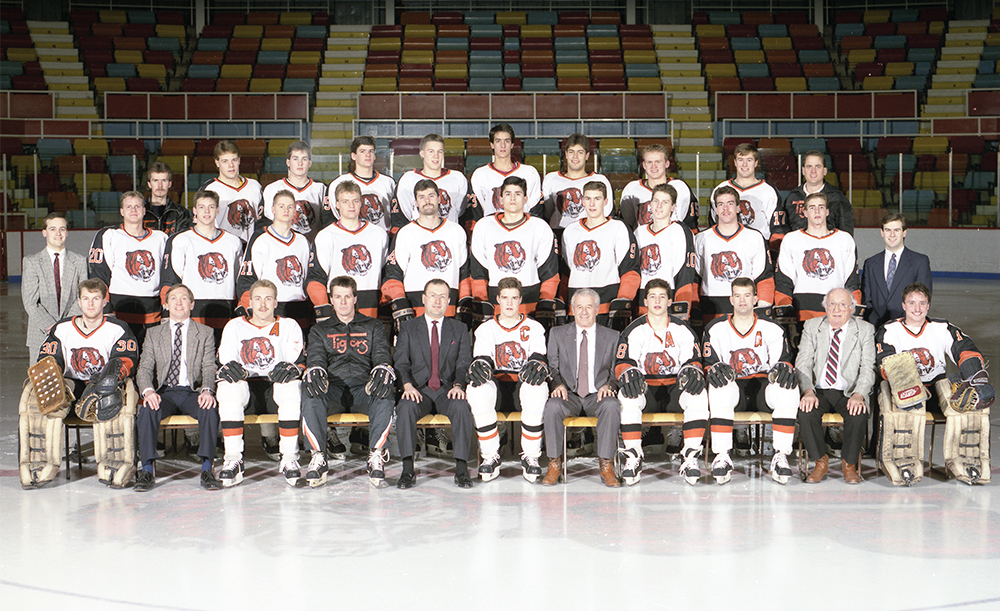 Front Row (L to R): Mark Fitzpatrick, Dr. R. I. MacKenzie (Team Physician), Mark Pederson, Barry Melrose (Head Coach), Russ Farwell (General manager), Dean Chynoweth, George Maser (Owner), Rob DiMaio, Scott McCrady, Dr. J. A. Cranston (Team Physician), John Colville
Middle Row (L to R): Jeff Chynoweth (Public Relations), Darren Taylor, Wayne McBean, Neil Brady, Mike Barlage, Jason Prosofsky, Dan Kordic, Trevor Linden, Neil Wilkinson, Ryan McGill, Jason Miller, Daryl Henry (Public Relations Director)
Back Row (L to R): Terry Hudec (Assistant Trainer), Vince Boe, Wayne Hynes, Murray Garbutt, Clayton Gainer, Dwayne Brook, Cal Zankowski, Mark Woolf, Kirby Lindal, Doug Ball (Trainer)